Exquisite Connecticut Inns
Experience the Charm of Elegant Connecticut Inns at Our Mansion
Welcome to The Boardman House Inn your ideal destination for a luxurious stay near Essex, CT. Our charming New England getaway is one of the top Connecticut inns, offering a perfect blend of old-world charm and modern amenities.
Our luxurious accommodations are individually appointed with plush down duvets, fine linens, and period antiques and artwork, exuding the gracious living of yesteryear. We understand the importance of modern comforts, which is why we provide our guests with amenities such as Wi-Fi, discreetly placed flat-screen TVs, and air conditioning.
Most of our bathrooms feature heated floors and towel racks, adding an extra layer of comfort to your stay. Whether you're here for a honeymoon, anniversary, romantic weekend getaway, or simply a relaxing vacation, The Boardman Mansion provides a serene and inviting atmosphere for all our guests.
East Haddam CT is a picturesque town filled with attractions that will keep you entertained throughout your stay. From hiking trails and nature preserves to museums and art galleries, there's always something to do and see in the area.
Book your stay at The Boardman House Inn today and experience the best of Connecticut inns. We look forward to welcoming you to our luxurious accommodations and helping you make memories that will last a lifetime.
King Room on the first floor.
Discover a refined first-floor room boasting an expansive semi-private porch. This spacious retreat offers a regal king-size bed adorned with a sumptuous feather-topped mattress, a sitting area, and lofty 12-foot-high ceilings. Immerse yourself in the room's timeless ambiance, furnished with exquisite antiques, an elegant chandelier, and a vintage oriental rug. For your entertainment, a wall-mounted flat-screen television with Roku awaits your enjoyment.
King Room on the first floor with marble fireplace.
Indulge in the opulence of our first-floor sanctuary, adorned with a tasteful color palette of rich gold and creamy tones. This room showcases a magnificent king-size four-poster bed, adorned with a sumptuous feather-topped mattress. Sunlight pours in through a charming bay window, casting a warm glow upon the marble fireplace and billowing silk curtains that grace the room. Exquisite antique furnishings, including a sparkling crystal chandelier and a vintage oriental rug, add to its timeless charm.
Step into your private bathroom, where luxury meets functionality. It boasts a spacious glass-enclosed walk-in shower, radiant-heated marble flooring, and an expansive antique-style vanity crowned with a granite top.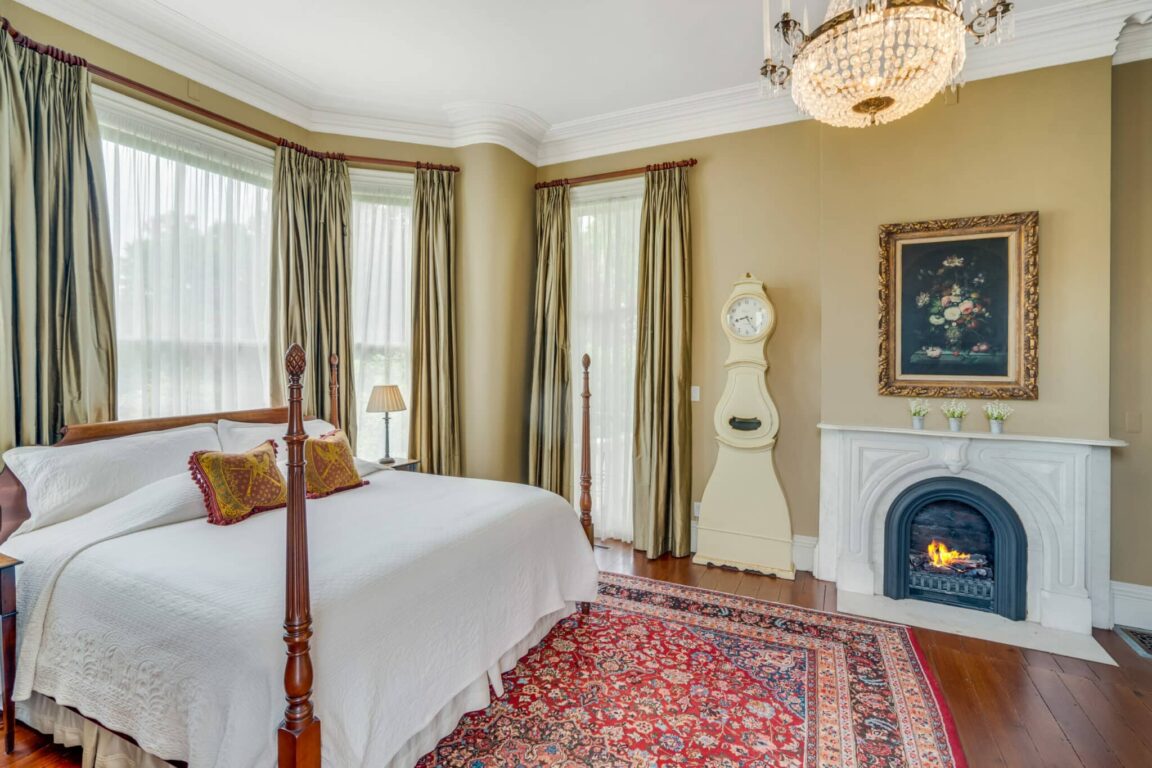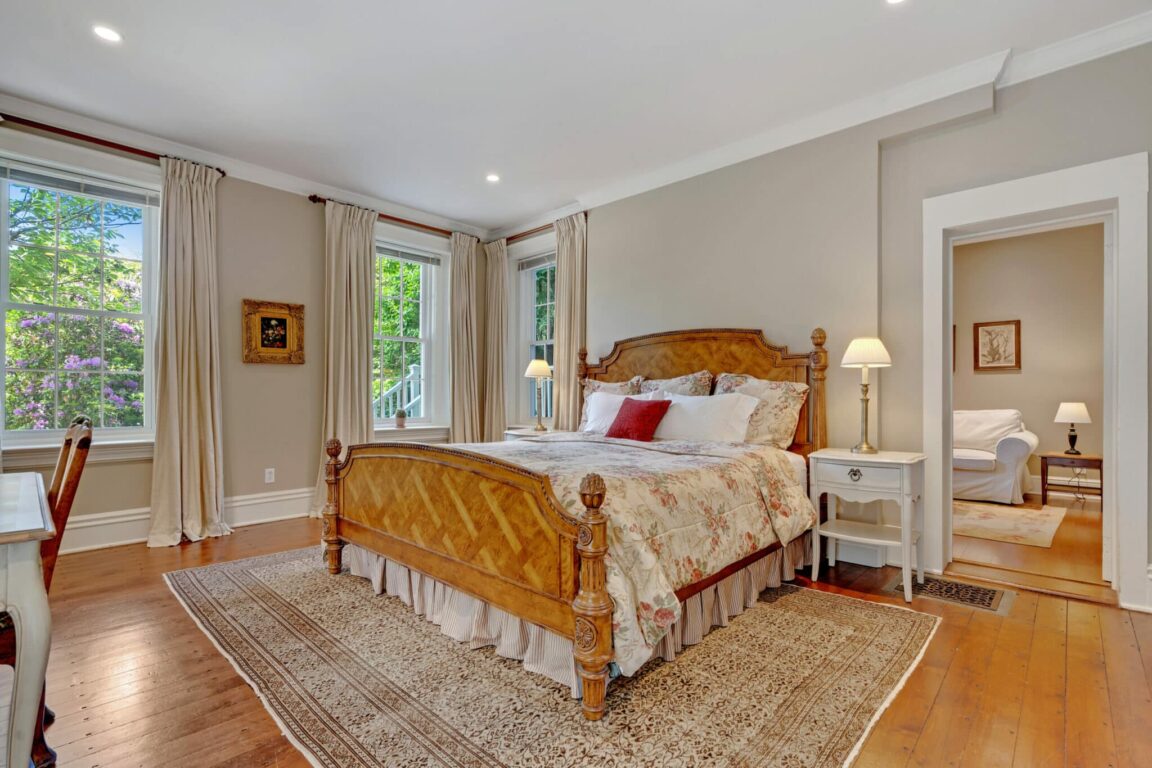 King Suite on the garden level with private porch.
Nestled on a secluded floor, The Garden Suite is the perfect haven for romantic getaways. Its bedroom is adorned with a luxurious king-size bed boasting a plush feather-topped mattress and designer linens. The suite is adorned with opulent touches, including a grand 19th-century French gilded mirror and an antique writing desk. Step through the French doors onto a spacious private porch that affords stunning garden vistas, offering you a serene spot to unwind and savor the moment. The separate sitting room has a plush sofa and a flat screen TV. The luxurious bathroom has a large walk in shower with mosaic tiles, an extra wide vanity with marble top, heated marble floor and heated towel rack.
King Room on the garden level with a fireplace.
Step into this exquisite garden-level chamber, graced with a private entrance. Abundant natural light streams in, offering enchanting garden vistas, while a charming flameless fireplace adds to the room's ambiance. Sink into the lavish comfort of a cherry wood king-size bed adorned with a sumptuous down duvet and pillows. The recently renovated private bathroom features a pristine limestone floor and a bathtub equipped with a shower, complemented by indulgent bath amenities. Stay entertained with a flat-screen HDTV featuring Roku, and enjoy seamless connectivity with complimentary WiFi.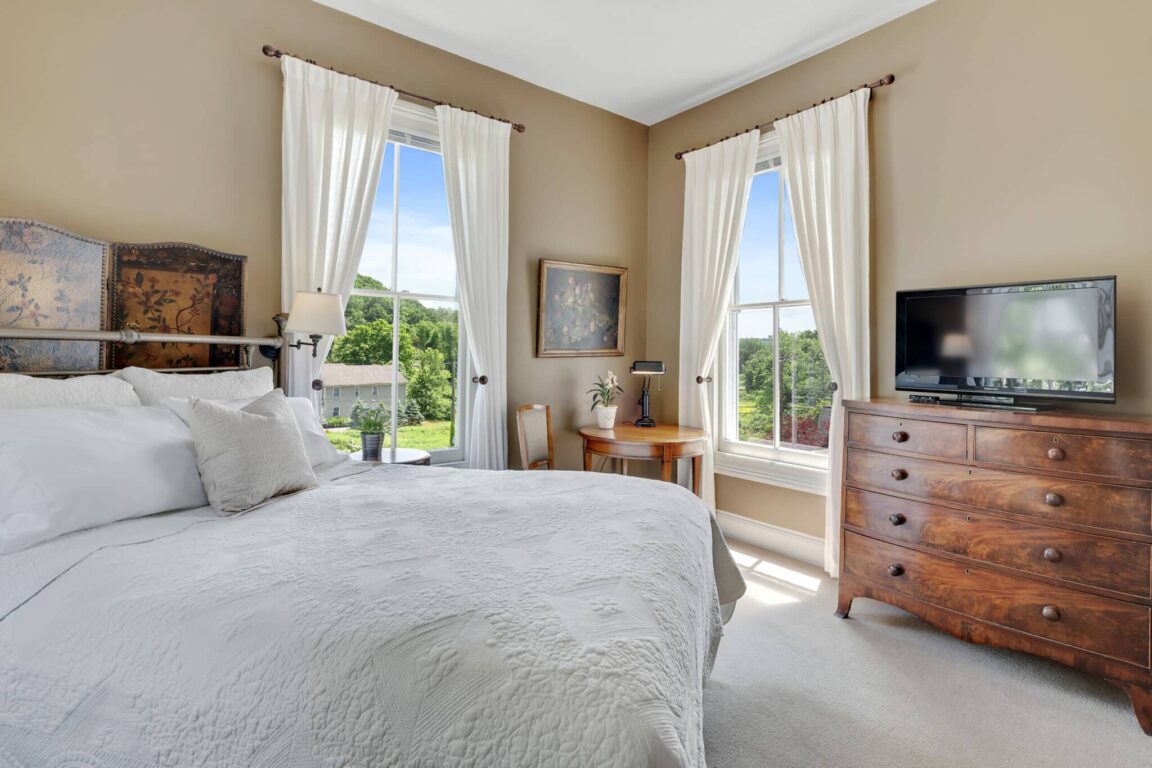 Queen Room on the second floor.
Discover this enchanting second-floor room, drenched in natural light. The room is graced with an antique brass queen-size bed, adorned with a luxuriously soft down duvet and pillows to ensure a restful night's sleep. Your private, newly renovated bathroom is featuring heated floors for added coziness and a walk-in shower for your convenience. Enjoy premium bath amenities. Stay entertained with a flat-screen HDTV equipped with Roku, and stay connected with complimentary WiFi throughout your stay.


Boardman House Inn Bed & Breakfast | 8 Norwich Rd, East Haddam, CT 06423 | Phone: (860) 873-9233